Transformers are primarily used to adjust the voltage level. They also enable new mains configurations to be formed. This allows downstream systems to be designed for the same mains configuration and voltage in all cases, regardless of where in the world they are operated. Just one autotransformer, that is considerably smaller than transformers with the same output, is required for easy and effective voltage adjustments. BLOCK's wide standard range of power, control, safety, isolating and autotransformers provides our customers with the right choice when building their systems.
Always the right transformer for your application
Difficult installation conditions or complex electrical requirements extend the application area for BLOCK transformers. Thanks to its coordinated components and more than 80 years of experience, BLOCK provides the right solution for all areas of industry. All solutions are of course certified and comply with the corresponding standards.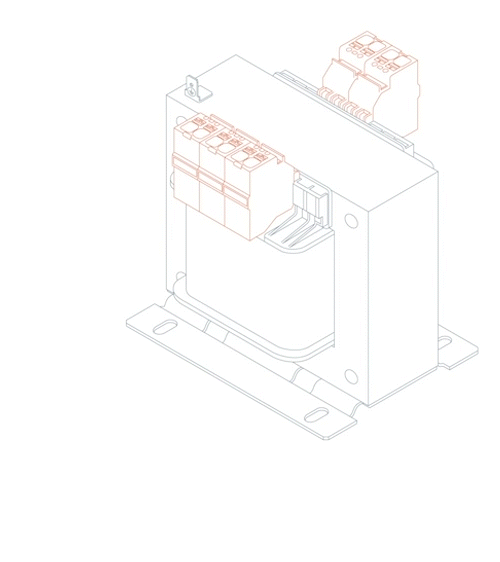 No tools, no screws, instead simple plugging in, quick contacting and releasing with just one click.
One of a kind: Our new push-in terminal offers numerous convincing advantages. Whether it's simple handling or time savings during assembly – it makes a significant contribution to increasing efficiency and safety. The push-in terminal can be easily fitted with the connecting wire from above and contacting takes only seconds. Connecting neighboring terminals is just as quick and convenient using the appropriate accessory bridges. The connection of conductors with and without wire end ferrules is guaranteed and for disconnection of the wire, only the orange button has to be pressed.
In addition to the time advantage during the wiring process, the push-in terminals are also particularly safe and can be used under adverse conditions, as nothing can come loose even when subjected to shock and vibration. The spring mechanism of our push-in terminal withstands these stresses and the contacting remains constant.
We have been developing and producing transformers in accordance with European and American standards for more than 80 years. Our transformers are subject to 100% testing and experience quality from a single source at all stages of production. This makes us a reliable partner with the highest quality standards.
Our customers' application areas are extremely varied, which is why we provide transformers in a wide range of designs. We provide expert advice on the use of BLOCK standard transformers or customer-specific configurations. Whether for serial production or specific applications, we deliver transformers that are perfect for any customer requirement, irrespective of the quantity required.
Sometimes a quick solution is needed, e.g. with a system outage or for changes at short notice. At times like these, it helps to have a wide standard range available from the warehouse. Our Development Center and production facility at our headquarters give us the flexibility we need to act on customer projects in order to ensure comprehensive planning.